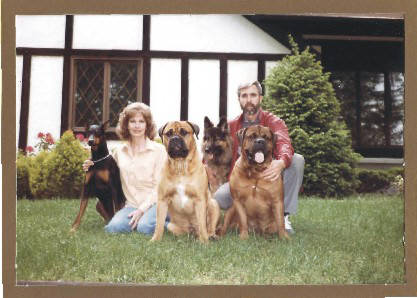 When Glenn and I married, he was in the airforce. We lived in a small apartment, I worked, and we did not have room or time for large dogs, so from early 1960 to mid 1970, we had two Toy Poodles named Boy and Gigi.
As a teenager, my best friend was a German Shepherd named Prince.
Growing up on a ranch/farm in southern Arizona, my family always had a dog . . . usually either a German Shepherd or a Rough Collie.
When I was a child, our German Shepherd Butch saved me from serious harm on three separate occasions. Once, I was in the pasture and a bull started chasing me. As I frantically ran towards the fence, I could feel the bull's breath on my back. Butch latched onto the bull's nose and kept yanking its head to the side until my brother was able to pull me through the fence to safety. Another time, I was walking on the surface of an iced-over reservoir when Butch circled in front not letting me go further. My mother called me back and Butch fell through the ice but was able to climb out to safety. Another time, I was walking on a path through tall grass in the orchard when Butch jumped against my chest knocking me to the ground. There on the path not five feet ahead of me lay a coiled rattlesnake which Butch proceeded to kill. Needless to say, I have great respect and a special fondness for German Shepherds.
In the mid 1970's to late 1980's, we had two Bullmastiffs, two Dobermans, and a German Shepherd, plus various mixed and pure-bred dogs that we rescued and rehomed. The red Dobie and the German Shepherd were rescues that we kept.
We found Rusty (the red Doberman) wandering the streets in Tempe, Arizona. He was emaciated: the hollows on either side of his tail would hold water, his ribs stood out in stark relief from his body, he was barely alive. He was pretty old at that time and we hope he enjoyed his few remaining years with us.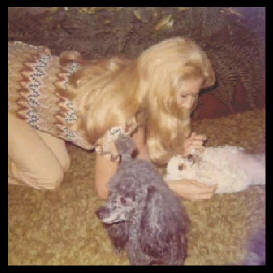 Towards the end of the Toys' lives, for a short while we had an American Staffordshire Terrier named Jubal. During that time, Glenn became interested in conformation showing and racked up many points before Jubal began showing symptoms of a neurological disorder for which he ultimately had to be euthanized at about a year old.
Right: Jubal winning
Best of Breed under an esteemed Terrier judge
Our dogs: Sasha, Tacker, Nicky, and Rufus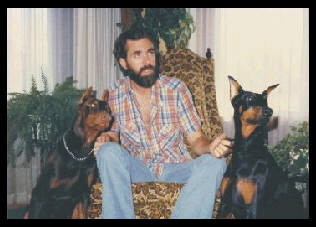 We don't know how Rusty came to be homeless but he was the gentlest and kindest of dogs, so it is inconceivable to me that anyone would deliberately abandon him. Although we advertised for a couple of months, no legitimate owner ever came forward, and we had Rusty until he died a few years later.
I acquired Sasha as an eight-week-old puppy. She was neither gentle nor kind: she was head-strong, undemonstrative, and difficult . . . but I loved her with a fierceness beyond reason, and was devastated when she died of pancreatic cancer at age ten.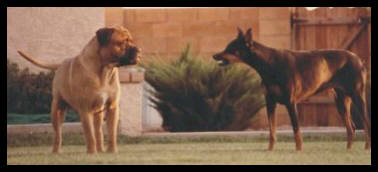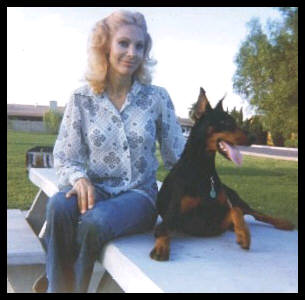 "Hey, Sasha, I didn't mean anything by that remark. Honest!"
"There's only one boss around here, kid, and that's me, so don't go getting too big for your britches."
As are most Bullmastiffs, Tacker was a gentle giant. He was about two when Rufus came at eight-weeks-old, and he played endless games with the little tyrant. Even when Rufus was an adult, the two Bullmastiffs were the best of friends.
This beach in Conneticut had a reputation for people being accosted by unsavory characters; however, we never had a problem while there.
The Bullmastiff was bred to accompany gamekeepers on their rounds and to take down and hold poachers. Bullmastiffs are much quicker and more agile than people initially think.
Glenn enjoyed showing Tacker and Rufus in conformation shows and was successful in acquiring many Best of Breed and Group ribbons. (I helped out occasionally.)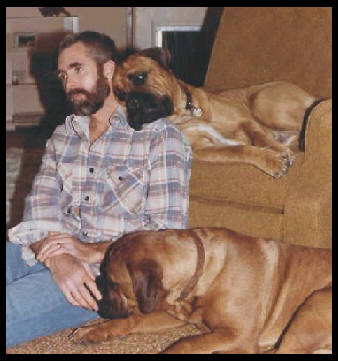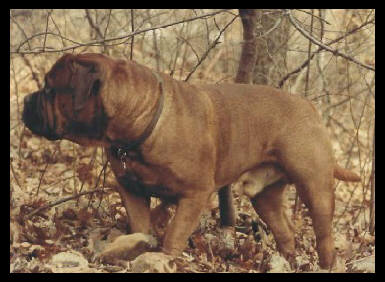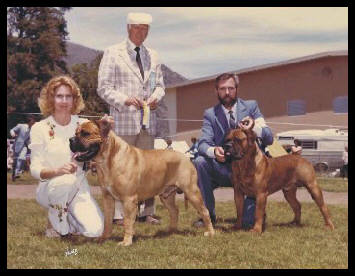 In mid 1980 while driving by a field in rural Arizona, Glenn saw a German Shepherd worrying sheep and stopped in time to keep her from being shot by the sheep's owner. She was very wild and hard to catch. I kept her tethered to me for three months so she wouldn't go over our eight-foot block fence and be gone. We tried with no luck to find her owner. Nicky was with us until she died of heart failure about seven years later.
Nicky had all of the attributes and the temperament that every good German Shepherd should possess. Additionally, she was one of the most breathtakingly beautiful dogs I've ever seen.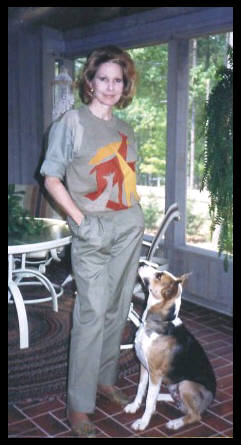 However, dogs in need of rescuing continued to be put in our path. In the spring of 1990, we found a little black and white Lhasa-type dog wandering the streets of town. Though quite young, she had her adult teeth so was probably over six months of age.
At that time, there were no rescue groups in our area nor was there a shelter (which we would NOT have taken her to at any rate). Advertisements did not bring her owner; however, we did receive several offers to give Molly a home . . . which we declined as by that time we had fallen in love with her.
Molly has the sweetest temperament imaginable and has been a delight to live with (still, at about age 19). Molly loved working and learned new behaviors quickly, performing with me and the three solid-colored Standard Poodles for many years at nursing homes, schools, ect., stealing the hearts of all who met her.
When we found Molly, we had no inkling that there were soon to be parti-colored Poodles on the scene as the Poodle Club of America had managed to suppress the parti gene for over a century by disqualifying the color pattern in the show ring. I mentioned to Glenn that I would absolutely adore having a Standard Poodle with Molly's markings. Little did I know how prophetic that statement would be.
The last dog we rescued who remained with us is a Beagle whom we found by the side of a highway next to the body of his dead Beagle companion in November of 1999.
In 1999 while searching on the Internet, we located a breeder of parti-colored Standard Poodles and, in 2000, happily adopted a puppy whose markings were very similar to Molly's.
In 2001, when Jyah was one year old, we adopted his half-sister Sydney, a tuxedo-patterned parti-colored Standard. These two partis are empathetic, intelligent, healthy companions with wonderful work ethics and scenting abilities.
Now in my life's final chapters, I look back with gratitude for all I have gained from living with dogs. Dogs have defined and enriched the various stages of my life; through knowing them, I have become a better, stronger, more compassionate person. Dogs have been, and continue to be, irreplaceable companions in my life.
In late 1980 when we found Daisy scavenging in a rural dumpster, she was malnourished and covered with demodectic mange. By the time she recovered her health, we had grown to appreciate her wisdom, her social skills, and her lovely personality: she is one of the rescued dogs we kept. She was with us through the natural attrition of the Bullmastiffs, the Dobermans, and the German Shepherd as we transistioned into the three Standard Poodles who were next to share our lives.
During the years Glenn showed the Bullmastiffs in conformation, I would always look at different breeds seeking my "perfect match." One day, I was walking around the show grounds looking at dogs and stopped 20 feet away to watch a beautifully groomed white Standard Poodle (in sporting clip) who was reclining gracefully on a quilt behind her family's chairs. She was watching people and dogs walking by - much like I was doing. Her gaze swept over me then, startled, flashed back. Why are you staring at me?!
Stoney, Charlene, Keila, and April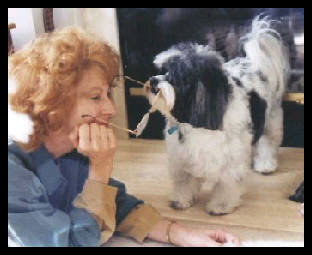 Had she been a person, I would have immediately politely looked away; however, her expression was so interesting that I was mesmerized. Her face showed the same type of emotion I might have felt had I caught someone staring at me . . . a mixture of self-consciousness and discomposure at being the source of such intense scrutiny. I thought: Any breed of dog with such a refined sense of self is definitely worth knowing! I acquired my first Standard Poodle in December of 1988 and have never considered any other breed since.
Jyah, Charlene, and Sydney in 2008
Glenn with Rusty and Sasha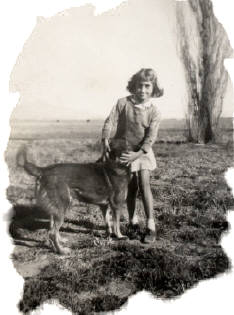 As a child, my best friend was a German Shepherd named Butch.