Over the years, I have purchased different styles of coats for my Poodles; however, none of these have ever been satisfactory. For instance, the ones below are ill-fitting and bulky. They have a padded collar that sticks up over the back of the dogs' necks . . . which my Poodles don't need as they have a lot of hair on the back of their necks. The coats leave their under chest and belly open to the elements and, since these areas are clipped short, they are among the most vulnerable surfaces in cold weather. Also, as you can see in the picture of Sydney (right), with just a little activity, the coat slips to the side.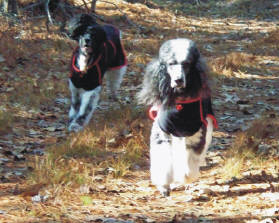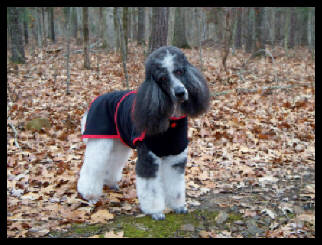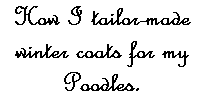 Upon searching the Internet, I found a coat I liked. However, since the coat was "one-size-fits all" (in size ranges)and since it also had a high collar on the back of the neck, I knew it would not be "perfect" for my Poodles.
Using muslin, I made a pattern along the lines of the above design, adjusting it to fit each of my dogs. I then bought some Polartec Wind Pro fabric, a revolutionary new tight-knit thermal fabric that is warm yet light-weight and highly breathable, and commenced making my own coats.
The coat has three pieces that are sewn together. In the picture above (left), you can see that the chest piece sews onto the "saddle blanket" piece. This makes a neck hole to slip over the dog's head. The "saddle blanket" part of the coat is secured snuggly underneath Jyah's belly by a short strap that is sewn to one edge of the coat and velcos to the other side under the belly. The part of the chest piece that goes between the dog's front legs is sewn to an oval piece which (goes between the legs and) wraps up around the body (see picture below right) and has a strap from one side to the other at the top. For male dogs (like Jyah), the bellyband is tight enough and in front of his "naughty bits" so he never soils the coat.
The material has stretchability which means the dogs can be very active without being restricted, and the two short straps (one under the belly and one over the top of the back) keep the fabric from shifting.
All in all -- I find this a very satisfactory design for a Standard Poodle that has been clipped closely on the body, hips, shoulders, and under chest with the hair long on the back of the neck, the legs, topknot, and tail.
In the picture below, you can see where the sides of the coat curves inward over the top of the tail.